Canwest News Service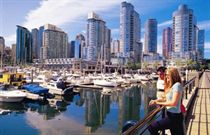 Fuelled by the Vancouver 2010 Olympics and Paralympic Winter Games held in February and March, spending by international visitors to Canada grew in the first quarter at the highest rate since 2003, according to new data from Statistics Canada.
Overall, domestic and international tourism spending combined rose 1.3 per cent in the first three months of the year, but it was international visitors that made up the bulk of the consumption.
Foreign travel spending rose 5.9 per cent, including an 11.4 per cent jump in air transport and a 2.8 per cent quarterly rise in spending on vehicle fuel.
Spending by international visitors on accommodation, food and beverage services, recreation and entertainment all increased during the first quarter.
Domestic tourism spending only increased 0.3 per cent in the first quarter, following a 1.2 per cent rise in the fourth quarter of 2009.
This was the third consecutive quarterly increase in tourism spending in Canada.